Moderators: RoadWarrior, joeracket, Bam
....... congrats on the new wing rick ...... one mighty fine looking bike ........ enjoy .....
IF YOU DON'T STAND BEHIND OUR TROOPS & LEOS - FEEL FREE TO STAND IN FRONT OF THEM !!!
---
DAMN !!!! That`s a beauty!!!
Enjoy the heck outta that slick lookin machine !
Hammer It. Life`s journey is not to arrive at the grave safely in a well preserve skin....
but to skid in sideways,totally wornout ,shouting
HOLY SHIT.. What A RIDE ! !
---
Luv the color Rick... Happy riding.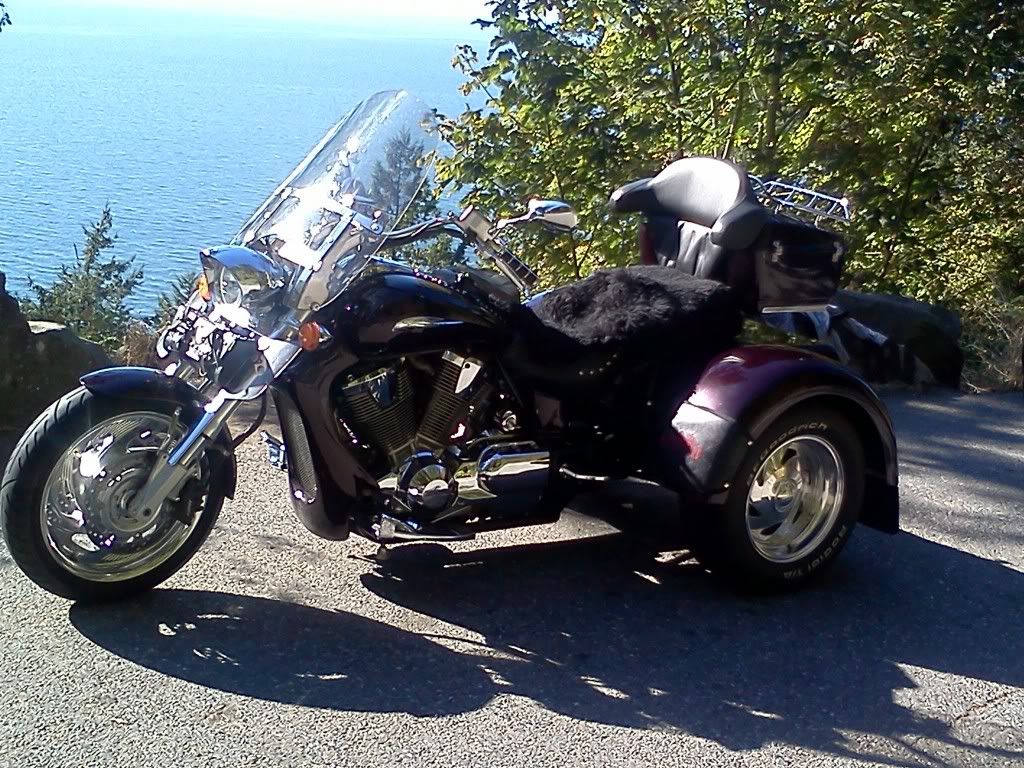 Still alive and Free....riding on three
'02 1800C "triked"
---
DCT with Airbag huh? Beautylicious - test rode the DCT locally and really enjoyed every single aspect of it...excepth the downshift was a bit stiff for me.

Enjoy guy!! She's Boo'ful!
2004 1800N Mediochre mileage Oustanding smileage ;0)
---
Iron Butt
Posts: 3219
Joined: Wed Aug 13, 2003 1:00 am
Location: Steelhead, Mission, B.C.
Contact:
oh ya, that's a fine looking machine.
2002 VTX1800C
---
This is a fantastic looking goldwing. When you get a chance give us a quick review of how it compares to your older goldwing.
2008 GL1800 Black
2002 VTX1800R Black
2002 VTX 1800R Illusion Blue
1981 CB750F Silver
---
Nice bike! I hope you're all healed up!
Aways put your brain in gear before you let the clutch out on your mouth.
---
site maintenance
Posts: 2034
Joined: Thu May 12, 2011 4:10 pm
Location: Wooda-bridga, Ontario
That is a real nice looking bike! What is riding a DCT like? Is it automatic like a car?
---
Common sense is NOT common...
---
Reply to a couple of questions on the board.
I have put 500 km on the bike this week, I am feeling fairly comfortable with it now. I certainly notice that it is a lot narrower than the 02 wing. When I first got it, I felt like the seat was a lot higher, but in checking, it is 744 mm compared to the GL1800 at 740, so there is really not much difference. I guess because it is new and a different seat, it feels that way. You do sit closer to the windshield, so I really haven't noticed much difference in wind, maybe just a bit more on the arms. The fairing doesn't cover all of my leg as the 02 did, so I think they might get a bit wet in the rain. The bike handles nice. I have done some circles in a parking lot to get the feel for it. You can turn it pretty tight, less than three stall widths so far. First gear is low enough in TOUR mode that it will just go around nicely. It seems that if you get slow enough, the clutch starts to engage. The DCT in automatic mode, shifts up through the gears and back down. If you put it in manual, you shift up, but it still shifts down automatically. You can override either with the paddles. I have used the hill start assist a couple of times and it works well. Once you release the brakes, it lets the brake off over about 3 seconds. There is idle mode, where the engine shuts off if you are stopped over 3 seconds. Turn the throttle a bit, it starts and the clutch engages. Starter and alternator are combined into one, so it is always engaged. It has walking forward and reverse which apparently uses the motor and not the starter as in previous Wings.
I liked my 95 Wing which was heavy in the front when going slow. The 02, I called a crotch rocket for old men. This is just a nice machine. Still working on the Apple Car play. It is a learning curve for me, but I am getting there. The GPS, I haven't got there yet. There is satellite radio, you have to install an antenna. Here are a couple of links if anyone is interested.
1. Changes made in the new model.
http://www.motorcycle.com/manufacturer/ ... -tour.html
2. Fred Harmon review after 12K miles.
He made videos on servicing the GL1800. Saved me tons of money.
http://www.angelridevideos.com/reviews/ ... Update.pdf
---
site maintenance
Posts: 2034
Joined: Thu May 12, 2011 4:10 pm
Location: Wooda-bridga, Ontario
Wow, great post, thanks for sharing. It certainly would take some getting used to. Personally, I would be concerned about losing control through the gears both up and down. That could be a "once you try it" thing...

I would like to hear your opinion after a few thousand KM's.
---
Common sense is NOT common...
---
Hey Rick

Thanks for your review and the link to Fred Harmon's review.
2008 GL1800 Black
2002 VTX1800R Black
2002 VTX 1800R Illusion Blue
1981 CB750F Silver
---
Nice hot rod! It should keep you smiling for a while
"Life may not be the party we hoped for... but while we are here we might as well dance."
"Some people are like Slinkys....
Not really good for anything, but they can still make you smile when you push them down the stairs."
---