Moderators: joeracket, Bam Bam, RoadWarrior, mr.biker, Cat
---
Posts: 132
Joined: Thu Aug 23, 2012 8:31 am
Location: Longitudinal Center of Canada (Manitoba)
I have had them on my bike two seasons now...
First set was great the first season until I got a nail in the back tire and had to replace it.
Second season my front tire started cupping so had it replaced. Vendor and manufacturer were quick to replace the front. But it was a US vendor and had to ship the tire back for warranty.
Later in the second season my replaced rear tire split in a bunch of the treads...this was also eventually replaced by the Canadian vendor. The manufacturer seemed to have no issue replacing it but slow response from the vendor really slowed the process down. That replacement tire has now gone out of round with less than two months use on it. Now the manufacturer is asking for the date code to be sent in for replacement to be sent...it took a couple months right at the end of the riding season to get an answer back about the warranty coverage...and my bike went into storage while waiting so will have to wait until spring to get a replacement.

On the other hand my friend had a set on his Yamaha 950 and has no issues what so ever...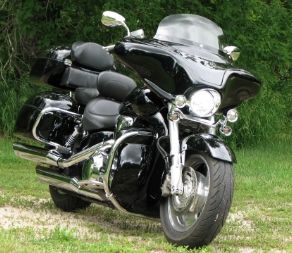 2003 VTX 1800 R - Rear Air Ride, Progressive Lowering Springs, Tsukayu VTX Specific Bags & Trunk, Breakaway Throttle Lock, Custom Corbin Cowel, F Risers, Woody's Fairing, Kuryakyn Constellation Driving Light Bar & rear signals, Cobra Fatty Highway Bars, JTD Cycle Parts Hard Lowers, RoadStyler rear bars, all LED lighting
---